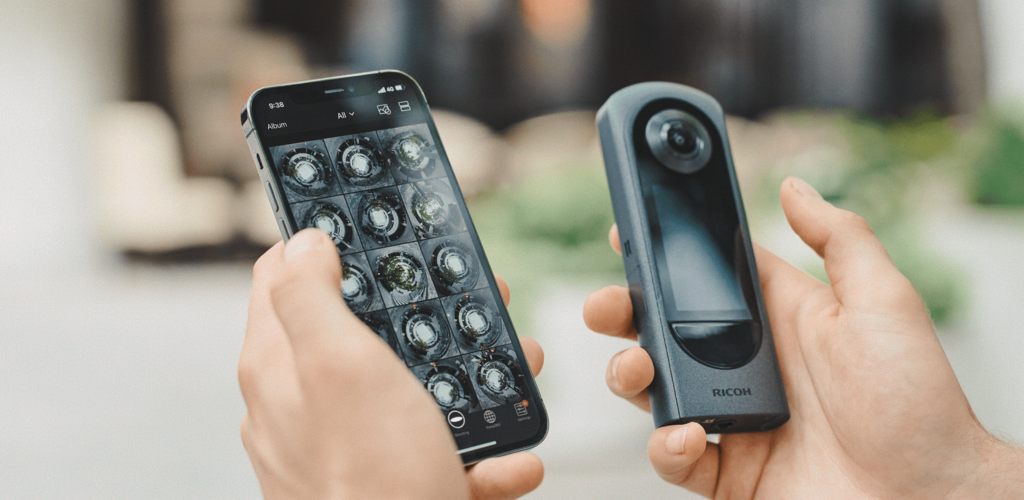 Ricoh Theta X vs Ricoh Theta Z1
The Theta Z1 has been known as an unparalleled symbol of quality among virtual tour creators since 2019. The Japanese Ricoh, is known for its great optics used in photography. Therefore, because of its unmatched photo quality, the Z1 camera was synonymous with the highest standard in 360 photography. Of course, we are referring to dedicated consumer 360 cameras. But as the years passed and more hardware launches of growing competitors (like GoPro and Insta360) took place, users were hoping for the next model. They anticipated the release of a successor, the Theta Z2.
It never happened. Instead, Ricoh surprised the entire spherical photography world in January 2022 with a brand new model, the Ricoh Theta X.
Image quality – resolution, sensors, aberrations and formats.
High resolution
Probably the most important aspect for the virtual tours and VR industry. The new model offers photos at an impressive 11k (JPEG) resolution, while its predecessor offered 5.6k (JPEG)/ 7k (RAW – DNG), but that's not the only factor determining photo quality. Of course, having more pixels in a photo is beneficial. To some extent. Does the Theta need 11,000 pixels? In most use cases, thankfully, it makes sense.
Sensors in 360 cameras
It's worth noting, however, that the Theta X uses a half-inch image sensor. The simplistic rule of thumb is that the bigger the better (of course, the quality matters too, but we've always been in very good hand with Ricoh), which means it's bigger than a good majority of the competition, including the Insta360 X2 and GoPro Max. In contrast, it's two times smaller than Z1's inch sensor. Meaning that for professional use, the Theta X may perform worse than the Z1 but it's still definitely better than the competition's solutions. And that's all in the ultra-fast mode where we're using a single HDR photo (an option for higher dynamic range shooting).
Time saving and pragmatic
It is also worth mentioning chromatic aberration, which manifests itself in the form of red-violet lines near windows and other edges from behind which light falls. In the case of Theta X the problem practically does not exist, which means that you don't have to remove it in post-production, which again means significant time savings. Another consequence will be lower power consumption, meaning longer battery life.
Ease of use versus possibilities
So the conclusion is that the new Ricoh Theta X is not just cheap gimmicks and favorable megapixel numbers, but above all, it is a very solid piece of equipment carefully created for users who want to take professional (well, maybe almost professional) quality photos with minimal effort.
So what about the RAW format? Currently this spherical camera does not support the raw format, that is DNG. It is very important for all users who want to use it in a professional way for post-production of photos, for example in Adobe Lightroom (RAW format, or DNG in this case, is a photo that stores more information, making it possible to show details in the images that would not be recorded in JPEG format). The manufacturer has announced the introduction of this feature, so we all look forward to it so that we can fully evaluate the capabilities of the camera.
Due to the fact that the camera currently takes pictures only in JPEG format, stitching, i.e. stitching of the pictures is already done in the camera, so there is no need to use a computer (with ricoh theta stitcher) – we get pictures from the camera ready to use. The same as in Theta Z1.
Ricoh Theta X 360-degree camera – video recording
In terms of video, the Theta X offers 5.7k videos at 30 frames per second. This is a better resolution than its lower-end competitors. An important point when comparing to the competition is image stabilization, which the Theta X does slightly but noticeably worse than the GoPro Max and Insta360 X2 (these two cameras allow you to record at either lower resolution or lower frame rates, the choice is yours). Color reproduction and sharpness, on the other hand, is great, leading to the conclusion that the X is not a great sports camera, but it will be great for shooting video from a tripod set up on the floor, which means it will be perfect for business applications such as training, documentation, or space presentations for marketing and sales.
Usability and improvements leading to even easier 360 media capturing
Ricoh has visibly followed in the footsteps of its competitors and decided to implement a touchscreen display in its latest model, which removes the need to connect the camera to the phone. This is because in the Theta Z1, we had to use the phone as a remote control for the camera to access all the functions.
It is incredibly convenient that in the Theta X, we can access all the functions from the interface of the camera itself. Additionally, the display is really big, at 2.25 inches. That's a lot bigger than in GoPro or Insta360. This improvement will make 360 media capturing simple even for a layman.
Additionally, the display itself is only half of the revolution that takes place in the Theta X. While this improvement will be very important for more basic use, Ricoh has also made a significant improvement for more advanced users in the form of an open Android system in the camera. This will make it possible for users to extend and improve the hardware themselves. This is a great move on Ricoh's part, as it has happened before that great practices came from the users, as was the case with the DFE plugin in the Z1, which largely contributed to predecessor's success.
From now on, the battery and card are also replaceable, a solution implemented earlier by the competition, was just begging to be included in Japanese cameras with unparalleled optics and optimum ease of use. Users who intensively use spherical tools will surely be glad not to have to carry power banks and to be able to use the camera without restraints, both in terms of power and memory card for storing photos.

Bottom line – which 360 camera will be better for you
The Theta X will be great for one-shot mode – that is, where you take a single spherical image in .jpeg format that is ready to be used in virtual walk-throughs. If we take advantage of the built-in HDR mode, which works as fast as ever (increasing the dynamic range of the photos we take – more visible dark and light areas in the photo), the photos will have a great ratio of quality to the time we take them. This is very good for real estate and documentation market.

However, for 360 photographers who want to spend a little more time on creating 360 photos and use more advanced techniques in their work like stacking (Dual Fisheye Plugin) or post-production – image processing (Adobe Photoshop Lightroom or Affinity Photo), the quality will be noticeably lower than in case of Theta Z1 (stil pretty good though).

Therefore, if you value your time higher, and you are using your camera for documentation, 360 training or residential photography – Theta X is the perfect tool for these use cases.

If your primary business is doing 360 photography on commission (rather than for your own use) and/or the highest quality is an absolute priority for you – Z1 currently continues to be a better choice, but it may be just a matter of time when Theta X will start supporting RAW format. Compared to 360 cameras from competing companies – if you can afford to buy a camera in a higher price budget – the X will be a great choice that will give you very high quality virtual presentations with its aiming quality and impressively improved usability.